Mimaki BS2 Ink Cartridge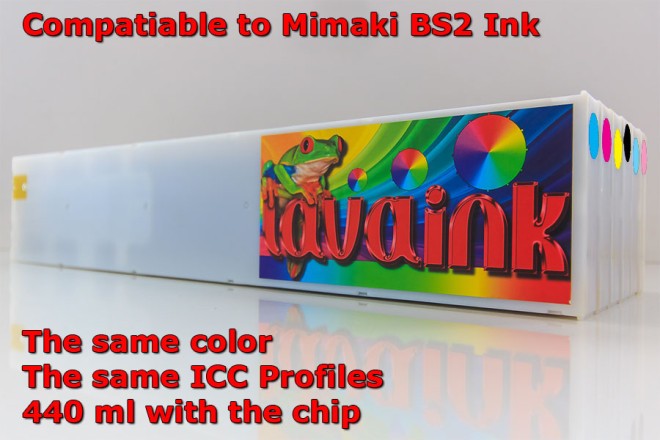 CY: Mimaki BS2 Ink Cartridge 440 ml 49.95 USD
MG: Mimaki BS2 Ink Cartridge 440 ml 49.95 USD
YL: Mimaki BS2 Ink Cartridge 440 ml 49.95 USD
BK: Mimaki BS2 Ink Cartridge 440 ml 49.95 USD
LC: Mimaki BS2 Ink Cartridge 440 ml 49.95 USD
LM: Mimaki BS2 Ink Cartridge 440 ml 49.95 USD
CL: Mimaki BS2 Ink Cartridge 440 ml 49.95 USD
Mimaki BS2 ink Cartridge
Mimaki BS2 Ink can been printed directly onto most uncoated PVC and scrim banner media. It does not contain any dangerous solvents nor spread any any dangerous solvents (volatile organic compounds) into the working environment; it is proved to be the true environmental-friendly light solvent inks.
Lavaink is a leading global Solvent & Eco-Solvent Inks manufacturer especial for Mimaki BS2 Ink. We perfected OEM material and technology to produce outstanding inks over OEM Ink. We give our customers the lowest possible prices by selling Ink directly from us. No distributor means lower costs. You can count on us for great products.
The following printers support:
Mimaki JV3, Mimaki CJV30, Mimaki JV5 etc.
LavaInk produces brilliant print result and durable graphics. Ink have been used in the industry and perform excellent both indoors and outdoors. it always meet its customers' satisfaction at competitive prices. The World's the Largest Manufacturer supplier the Best Quality Ink at Unbeatable Prices.
LavaInk is made in Japan and sold to the end users directly.
That's why LavaInk could supply the highest quality Ink at the lowest prices.
Why LavaInk?
100% compatible.
The same color.
as low as 30% OEM ink price.
most uncoated media options.
No need to flush old ink before switching.
The Ink Type Change for JV3
SHUT DOWN the JV3
PRESS key "<" ">" AT THE SAME TIME when OPEN THE DEVICE
When the device ready, PRESS KEY "END" 1 time.
Enter into into menu"SYSTME PARAMETRE"
Choose and enter"Ink 1 parametre".
Look for Item 93 and change the value "3" to "0"
Exit and choose the ink type you want shows on the LCD.
After been choosen, The device will advice you to insert the cartridges. Disregard it and shut down the device directly.
RE-operate 1> …6> but this time change value "0" to "3".
After set, the device will ask you to insert the cartridges.
insert the proper cartridge.
The Ink Type Change for JV33
How to enter technician mode?
Turn down the front power.
Press "<", ">" at same time when power on.
Find and Enter menu to "SystemParam" turn to #46 SUPPORT 2 (change the value to "2")
How to change ink type?
Enter menu ….
Functions
Parameter Function >RUNNING PARAM.
#121, change value "1" to "0" and change "0" to "1"
After set, the device will ask you to choose a ink type when restart on LCD panel.
The Ink Type Change for JV5 is the same as JV33
Mimaki BS2 ink Cartridge
Mimaki BS2 ink Cartridge for Mimaki C JV30 100% compatible same color
Mimaki BS2 ink Cartridge for Mimaki C JV30 Brighter bolder results Denser reflective metallic silver for added impact Virtually odorless