Mimaki JV3 Main Board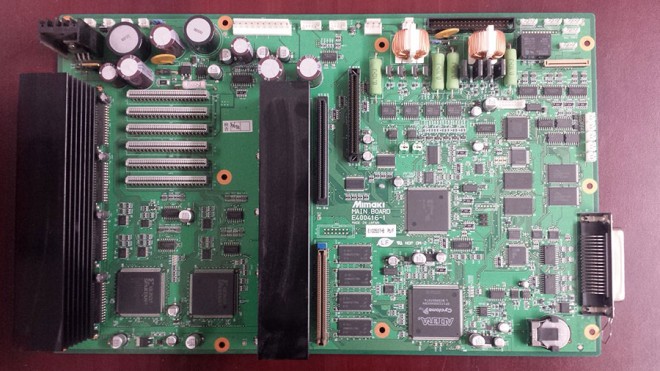 $1199.95 USD[wp_cart:Mimaki JV3 Main Board:price:1199.95:end]
Mimaki JV3 Main Board
JV3 160S 160SP 130 250 JV4.
You need to change your Mimaki JV3/JV4 mainboard if a printhead not printing AT ALL – even after replacing the head.
Also maybe the following reasons to cause a printhead not printing AT ALL:
transistors.
Slider board.
Cable.
These transistors and hard to find are used to regulate the voltage to the printhead. If they go wrong, then you will find a whole row of jets is in the test print. In most of the main tips of the head and Roland, no fuses to check first before checking transistors. For JV3 and JV4 plates, no fuses and transistors will be the first to blow. Each printhead uses two different NPN transistors. This reference number is for marking transistor A1746 If you are not familiar with the test NPN transistors, you will have to consult an electronics technician or learn test methods via the Internet. We do not provide technical information on these tests. If you need help in replacements or servicing your board, we provide this type of repair – look on this page for this.
These cables print head are compatible with Mimaki, Roland and Mutoh printers. They have 21 pins and are 21 cm (9 inches) long. When the cable head dirty, bent or stripped, get printheads will fail or stop working altogether – and then you have an expensive repair. You hear this all the time – cutting wires the print head or worse, cause expensive damage to the main board or board carriage. If you notice any damage (bent connector, dirty cables, even the slightest dent in the cable), replace the cable immediately. It is much cheaper to replace cables that face a broken head gasket or head!
For UV Printer info at www.LavaPrint.com