Xaar Ink
Xaar Ink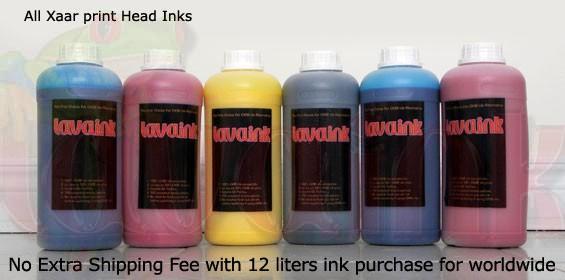 Cyan: Xaar Ink
Magenta: Xaar Ink
Yellow: Xaar Ink
Black: Xaar Ink
LC: Xaar Ink
LM: Xaar Ink
Cleaning: Xaar Ink
Xaar Ink
Xaar Ink.
Mild Solvent Ultra Black bulk hp 10000 ink 500ml. Mild Solvent Ultra Cyan bulk hp 10000 ink 500ml. Mild Solvent Ultra Magenta hp 10000 bulk ink 500ml. Mild Solvent Ultra Yellow hp 10000 bulk ink 500ml. No Extra Shipping with over purchasing 12 liters for the worldwide. 100% OEM ink compatible. as low as 50% OEM ink price. 150 uncoated media options. No need to flush old ink. HP 10000 Ink Cartridges. Introducing compatible cartridges for HP Designjet 10000s with 100% compatible solvent ink. Priced at less than a half of an original cartridge. this product will work flawlessly in your HP10000 printer. with less banding. less printhead cleaning. better adhesion to media and a great color gamut. Each of our cartridges contains an ink bag filled with our proprietary dual-stage ink degassing technology. which makes the ink work very stable and dependable.
Pre-filled ink bags are a low-cost and environment-friendly alternative to complete cartriges. Why pay for plastic and a chip every time. while all you need is an ink bag. Reuse the cartridge. change out the ink bag and recharge the chip. it takes only a minute. In addition, ink bags work a lot more stable than the bottled ink in a bulk system. Our bags are filled with our Supercharged ink that achieves a never-before seen performace and reliability level. It can print continuously at high print speeds without dropping out nozzles. No banding. no color shifts. less wasted ink and time on head cleaning. improved adhesion to media and a full compatibility with the original ink. that's what you are getting for less than 50% of the OEM ink price.
Xaar Ink Superior solvent ink. packaged in bags with our unique degassing technology. and equipped with our own reliable chip. this product is guaranteed to work better than original ink cartrigdes.
Best UV Printer is at www.LavaPrint.com
Xaar Ink
Xaar Ink for Xaar printhead printers 100% compatible solvent uv ink
Xaar Ink compatible cartridges for Xaar Ink with 100% compatible solvent ink. Priced at less than a half of an original cartridge